RoQ Riffs!!! Ya'll good??! How is everything in your area??!  Been a second since I've regaled you with my misadventures.. so I'm back… back with a brand new episode of The Adventures of Slick RoQ !!  This time, we're in culturally-rich Albuquerque, New Mexico.  So, my dude Jorquise Montano of Ghetto Gentlemen brought me out from the devil's armpit otherwise known as Phoenix, Arizona… where it's still hot.  No, you don't understand how damn hot it is out here. Why..?  What did we do to you, mother nature?! What did we do to deserve this treatment?!  Seriously , cool the hell down. Literally. Chill!!
Damn!
Okay… sorry about that, folks. A lot of pent up frustration. Anyways… As I was saying, I was brought out to rock for the good people in ABQ as part of the show with the blastmaster himself, KRS One ( one.. one .. one.. one) . Let me tell you, I've obviously rocked ABQ before.. but every time I step out to this sector of the sw, it's like I step into some sort of retro-reality where people actually give a damn about hip hop… UNDERGROUND hiphop, at that.  True indie, shit.  It makes perfect sense, though.. as Albuquerque is as culturally fertile as it gets.   Arriving at the acclaimed Sister Bar with world renowned Armory DJ Element to soundcheck, a line was already forming outside.  Something felt special about the night.  Hype started to build as I was sound checking… let me tell you how artist-friendly the spacious stage is, too. A LOT of breathing room for a young guy like me to endanger himself with haphazard antics during performances.  One of the things I love doing when arriving early is to check the buoyancy of the stage… to hear how your voice sounds in the empty room, before your voice is being reflected and absorbed by the huddle mass, during the show's peak. Here, take a "before" picture as proof:
With little time, the show started to pack up.. heads were pouring in the door.. buying rounds, conversing. All while  ABQ's own, and highly talented DJ OHM of DMC fame held the sounds down. The guy knows what he's doing, to say the least. The atmosphere was lovely.. the front room- hold up , let me cut myself off, real quick.  Since I'm talking about Sister Bar in detail, this will also unofficially service as an episode of The iLL Venue, okay? Alright, cool. Now, what was I saying..
Yes, the atmosphere. It was dope. Friendly bartenders and employees; patrons from different walks of life were all packed together and enjoying each other's company, as we got closer to the first performance of the evening.  Me? I was exploring the DOPE "green room" a.k.a. the artist room…  you get it!  Just check it out. The shower, son.. the shower *gives dap w/ finger snap* ..
Dope artist area!! Sister Bar in ABQ , NM is pretty legit… #hiphop #shows

But yeah..  OHM and local emcee talent Jordan Miles knock everything out and wreck shop.   DJ Element comes through with a surprise set.  Absolute destruction.  He had the crowd in his palm.  No.. he had the puppet stick in his hand and the strings were attached to the crowd.  Seriously, I was set up for the illest alley-oop, this season.   So, it's time to rock.   Step out there and do my thing. The crowd is absolutely eating it up.  It's always love to receive that type of dope energy. 30 minutes of a wonderful chemistry between the crowd and the emcee / dj .  It seriously could not have gone better…
Or could it…??
So, getting off stage, I headed backstage to find out the tour was there the entire time I was wrapping up my show. Cats like the talented  DJ Predator Pr!me (who's also KRS-One's son.. ha, I rhymed) were back there gearing up getting ready to kick some ass with KRS.   That is when The Blastmaster, himself, stepped in.  Immediately dapped everyone up. Brief convo with us, which included giving me a dope dvd in exchange for my own personal music.  Seriously, I just bartered by The Teacher.  So, that's where I'm thinking the interaction stops.   But NOPE!!!
 "Yo, are you done rapping for the night?"    Me: "Yeah my set jus.. wait.. no.. I'm not. I sure am not done rapping for the night!"    "Cool, grab a mic and come with me on stage"
Probably the first time I thought  "..bruh…"
So we go on stage.. the crowd explodes, as expected.  He starts killing the crowd.  I'm thinking I'm just going to hype , right?  Another "no" !!!  Completely sets the cypher up for me to come through with on my Miyamoto Musashi shit.  Telling you, you have to just press the "Go" button. No doubts, no questions. Just spaz.  So, that's what I did.   I'm thinking that's the end of me rocking with the legend for the evening.  Bucketlist achieved..  so, I'm standing at the back of the stage with Element, enjoying the show. KRS, in his own true form, brings up another element of HipHop.. the breakers.  As the show was dedicated to DJing and Emceeing, he wanted to showcase some talent from the crowd.  Incredible, absolutely incredible breakers came up from the crowd, all shapes and sizes, and dominated.  KRS was freestyling what was going on and then instructed me to do the same. Which I did.. again, damnit!    So, you're saying to yourself "that has to be it, yup.." .  Well, no. No for the third damn time.   After all that was said and done, he rocked.. well past the curfew, at that.  Then he started a cypher by calling up the emcees who were in the crowd. He lead the way, followed by another lyricist… that's when KRS hands me HIS mic.  Not the next man's .. HIS.   So, I had to spaz with that.  I even implemented some crowd call-and-responses to keep everything hyped.
Over all, it was a fun event. Always good to meet someone you looked up to and be recognized as of the same calibre, subgenre wise.   Here I am, just an emcee from the Phoenix HipHop scene, pursuing what he loves the most.
The show was over, chopped it up with folks.  Lost my phone for a good 30 minutes. Ate breakfast and called it a night.
The next morning, woke up to a crap ton of hot air balloons coasting through the air, at freewill. Through the middle of the city, in random paths that would make the FAA suspend all incoming flights.
"What in the hell?" – Hank Hill, 1997.
What I'd come to recognize was ABQ was in the middle of their annual Albuquerque International Balloon Fiesta.  It was pretty interesting , to say the least.  Dope, but interesting hahaha.  All over the place, you'd see vans towing huge storage units , presumably with hot air balloons stuffed inside like less-palate-roof-scalding ravioli.   All jokes aside, the Balloon Fiesta is actually pretty damn ill.  It's pretty much the antithesis of an "eye sore": absolutely beautiful.  While it was just starting up as I was leaving town, here's what a typical Fiesta looks like:
So yeah, that's dope.  My boy Def-i and I went to grab something to eat at a BOMB hole-in-the-wall location.  You know there is fast food, regular dine-in, upscale, and hole-in-the-wall.  The latter is where you get the best food, each and every damn time.   Man.. I'm hungry thinking about this.
Sophia's Place , which was also profiled on Diners, Drive-Ins, and Dives with that smug, frost tipped bastard Guy Fieri.  What??  He endorses TGI Friday's.  Disgusting. Sell out.
Let me get back to what I'm saying. Don't let his endorsement fool you, as this food is EXCELLENT.  No, seriously. I'm writing this while I'm hungry and am a little upset this is some 400 miles away from me.
Oh… since I'm  writing about a food spit.. consider this an installment of Foodluminati.
I ordered the breakfast tacos:
Man, how do I describe this to you all.  The beans w/ queso.. FIRE.. the greens.. IMPECCABLE.. the seasoned home fries.. DELICIOUS.. the breakfast tacos, themselves?? I'm resisting biting the screen. Absolutely indescribably delicious, plus they did not spare on the spice.  Whether you needed something filling, something to wake you up, or something to undo the damage of last night's wildin out ( I was sober but I'm sure some folks weren't )..  THIS is the go-to meal.
And to top it off,  the homie , fellow emcee, and  hero to New Mexico, Def-i ordered the french toast.  No.. you think that's basic?  NO! Check out what it truly means to order "french toast" over there at Sophia's :
To the left, you have organic maple syrup. Perfectly ripe bananas. Blueberries.. yes.  BLUEBERRIES that taste like BLUEBERRYS!! Unfortunately there were no snozberries; but there were some fresh-from-the-bushes raspberries.  All that over perfectly browned and seasoned french slices.  Crisp all around the edges. I'm overusing periods because I want you to understand how definitely INCREDIBLE this plate was. Nothing comes after that plate… like a period.  Here, take as many as you like …………………………….  STILL, nothing comes after that plate. I'm going to end my sentence with a slice of toast from here on out, if someone can program that in for me.
Okay, after that, it was game time.   Time to hit the Breaking Bad spots, since binge-watching seasons on Netflix isn't a sign I need more conductive hobbies.  So, Def-i providing the Tour De Albuquerque, took me to the spots.. starting with this…
It's TUCO's crib!!  For those who don't remember, Tuco is the crazy dope boy from Breaking Bad who moved to New Mexico after being sodomized back in Los Angeles.  
But yeah.. there's there HQ.. and there's me.
That's that. We proceeded to the next spot, which I wasn't able to get a picture of… but it was Pinkman's apartment. You know, the place where his girl OD's , right?  The thing about Breaking Bad is the brilliance attributed to the scouting team's obsession with making things as "accurate" as possible.  My point?  Well, remember the episode/s when his girl's father discovers her demise?  He ends up going to the bar? The DOPE thing about that is it's proximity to the apartment complex. It's like, if it were based on true events, it would geographically make sense, considering the bar was only a few blocks from the apartment.
Anyhow.. here is the scene cap: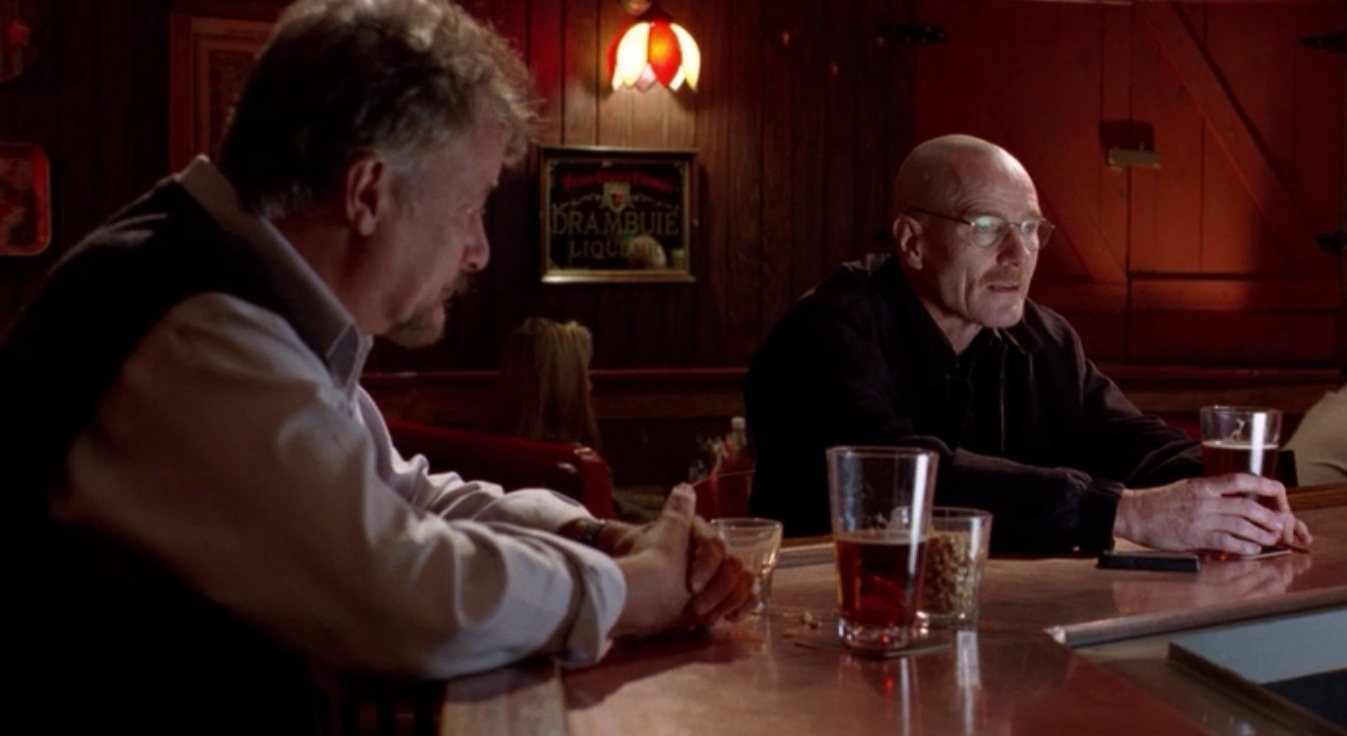 And there's me.. ordering nothing.
After a while, the bartender gave me the "gtfoh, tourist" look and we took this tour to the next location…
So.. when I was going outside to take this picture, below..
I noticed a vehicle with Wisconsin plates suspiciously parked right outside the premises. It was definitely hotboxed — I'm just hoping it was at least weed.  I have every right to speculate otherwise, too. Don't judge me.  You'd think it were a more "chemically-based" narcotic in the vehicle.  People roll up and blaze to Marley…. and Jerry Garcia, am I right??  I'm just saying.
So, with all that said and done.. we proceeded to the Walter White's first place of employment.  Not the school.. but this

The Car Wash!!!
I even had some spare time to do a little reading.
I know there's plenty of other spots: Hank's, The School, the chicken spot (affectionately known as Twisters), the laundry mat… but I had to head out to Tucson and could only afford ONE more place… so I decided to do the grand finale and save the rest for next time..

Walter White's residence!!  Someone actually lives there, too.  I don't know why.  They even had the audacity to place "private property" signs all over the yard like they didn't decided to buy the most famous residence in Albuquerque.  I was a bit bummed it wasn't vacant, I definitely planned on scaling the backyard.  These poses will have to do.
One more.
And that was it.. said peace to Element and  Def-i , refilled my car, and spent the next 6 1/2 hours blasting Dilla's Donuts until I hit my next show stop out in Tucson.  I have to say, this was a very productive and exciting trip. Normally you go to towns, rock the shows , build with people, and keep it moving…  but there was something unique about my southwest neighbors which I had to share. Been a while since I graced the good ABQ.. but this experience automatically tops my last venture out.
Thank you to everyone who came through and showed love during the sets. Shout out to, in no particular order, Jorquise, Def-i, DJ Element the turn table wizard, and the staff of Sister Bar. Another shout goes to OHM for saving the day. While I was out there to work, it was definitely more of a "vay" than "work"cation.  To all the people out in NM, I'll be back VERY soon.. stay tuned!!
Alright , yall!!!  Hope you enjoyed today's session.  Have you taken a trip lately, which you'd like to share?? Hell, ANY trip memories?? Any upcoming vacations, workcations?  Even staycations count. Go ahead and share below.
Alright, RoQ Riffs!!  Enjoy your Sunday!!  Tackle the new work week like the giant you are.
Live from Phoenix… "THE CULTURE IS BACK!!"
Peeeeeeeeaaaaaaaaaace
– RoQy TyRaiD
Comments
comments