Peace Peace RoQ Riffs!! How's everything rollin with you??  Enjoying that Tuesday, I'm hoping.  Want to introduce folks to this new segment titled The iLL Venue, where I provide a little bit of information on some dope spots I've either performed at, or have been to.  I want to give it up to these venues because without them, we would be performing strictly at house. A lot of these venues will be through my personal travels, so if you can add your experiences to the comment section below, it can provide a more universal perspective on what makes this such a dope location for Underground / Indie HopHop.
For the inaugural issue, we have a spot I recently performed at by the name of  "The Legionnaire Saloon" , which is located in the creatively-inclined / culturally-diverse Oakland, CA.  I was assigned to perform there earlier in this month of August, the 8th to be exact, for the Routine Maintenance show, hosted and organized by the VERY talented Master of MPCs , Performing Producer  otherwise known as Ben Durazzo  …. in fact.. before I continue my spectacular review of Legionnaire, go ahead and play this in the background.. because A) it's dope production and B)  he's playing two damn machines at once:
Okay.. you good?    Dope, right?   Okay, back to what I was saying..
I was slated to perform for the first edition of the Routine Maintenance  event which featured some pretty solid acts for a line up:
When I eventually landed in the good Oakland, my dude Ben swooped me up and proceeded to give a Tour De Oakland. All the dope scenery, the inherent artistic nature of the town, dope eateries… subconsciously, I had my mind on that damn venue and what exactly I could expect of the evening. I heard a lot of great things about the spot.. but it's all about the personal experience ,right?
We eventually touched down at the venue for sound check and it immediately brought me back to "college district" type locations with that certain distinctive semi-eclectic vibe.  Walking in the doorway of the still-vacant venue prior to early evening sound check, I was greeted with a huge Californian flag draped over the dj booth of the downstairs dj booth.  Being the Southern Californian born & raised gentlemen that I am, I had to salute the thing hahaha. There were even some dope retro pinball machines, a dope social-activity for it's demographic of laid-back, fun-going patrons.
The bar looked amazing: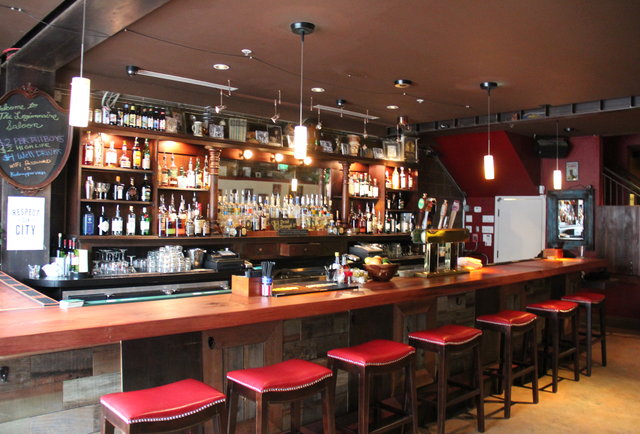 Maybe it's the clean, wooden bar tops and contrasting redwood brown / red scheme that makes you want to order a glass of brown and twist your mustache..  unless you, the reader, is female.. then that's nasty and you should shave.   So, in your case young queen, .. you'd want to order a sangria and act snooty.  LOL I'm bad at this description stuff, dammit,  what I'm saying is it looks classy enough to be initially perceived as pretentious but it's laid back and down-to-earth enough to let yourself loose and really enjoy the hell out of your evening. It has taste… There. Perfect description.  This is where you bring your significant and some of the best friends for a night of inebriation and memory-building… and of course.. VERY… GOOD.. MUSIC from the regional music pool.
There is a special Phoenix connection I will tell you about, later down the page.
Alright.. surveyed the downstairs.. already loving it. I can tell this is the type of spot to hit up on a Friday night if you're a resident or passing through the avenue. High hopes for the evening. Walk up the stairs to the second floor , through a hall way of dope paintings and show posters, to where the event will be held that evening;  another clean looking venue. The stage is gorgeous, the lighting was of quality. There was a huge section for the sound man.  Trust me, that means a LOT when it comes to shows. You know that crazy high-pitched sound that comes through the speakers when you're at a bad show???
This sound…
I hope you didn't listen to that on max volume. Anyways… That painful sound happens when you don't have a dope soundman who isn't worth his or her salt.  Anyways, that was on deck.  There was dope ass art across the wall.
One of the first things I do when I perform my sound check, is "test" the stage. I walk across it, jump on it to test it's buoyancy , I grab the mic stand and check for it's weight. It's akin to a football athlete testing the field or a relay runner familiarizing their self to the track they will inevitably be running for their damn life down.  With that sort of traditional routine of mine completed, I continued walking through the upstairs portion of the venue, soaking in it's vibe.  I walk over to the bar to grab some water, looking for a place to charge my phone when I see this dope piece of art and say…   "yo, this painting is dope but whoever did this is completely stealing my dude Dumper's style"
I go up to examine a flier by the wall and it says a Motown On Mondays event is hosted here  (CLICK THAT!!)..  and that's when it all clicked together lol.. duh.. that was done by Dumperfoo and this is where Blunt Club Oakland is held (and click that, too)  !!! What the hell are the odds of that?? LOL !   So here I am, getting to perform with a little piece of my Phoenix HipHop home.  That reaffirmed my feelings that this was , in fact, going to crack way thee hell off.
In typical fashion, I grab some stickers and place them in odd ass places in the venue for people to find years down the road lol. Before I can get my damn sticker in the bathroom I saw someone beat me to it!!  Yeah, some folks probably think "you're an artist, that comes with the territory". Screw that mentality, I'm supposed to be that kid on the back of the bus rapping to himself , posted between two crappy discman ear muffs. So appreciation is always appreciated..  needless to say, this set the incredibly positive tone for the night. Thank you to the supporter who posted this in the bathroom.. RoQ Riffs, stand up!!
So fast forward to the spectacle.. my dude Task1ne shows up, Durazzo is already in the building, Catalyst, Eraserface… the whole operation. People start trickling upstairs and the party begins. Crazy cyphers turn into incredible performances as dope indie hiphop pours through the speakers. The sound treatment in the building is fresh.. there isn't a crazy hollow or "echoey" sound. Just grade A perfected sound quality.   One thing I dug about the crowd is how vastly different it was, by each individual group.  You had straight indie hiphop heads, "chic" girls, older couples, hipsters, street dudes, nerd cats, rock dudes… all sorts of walks of life. This is, of course, a motif of the Bay Area.. "diversity" , it is it's own melting pot… and The Legionnaire provided the perfect post card snapshot of what you get when you go to an out-the-box music event such as Routine Maintenance.  Without the owners and employees doing their best to create their unique environment and without it's already respected reputation as a weekend spot of entertainment and leisure, you wouldn't have so many representatives of so many different demographics.  In a sense..  Legionnaire IS  HipHop , be it underground / indie or beyond; as HipHop is "Universal".
Even traveling back downstairs into a completely different club environment, both levels seemed to compliment each other. That's always the makings of a definitively DOPE venue.  I've had some pretty amazing shows, this past year.. and this one has officially made my Top 3 list.   I have to tip my hat to the employees, owner, promotional bodies, and of course  Mr.  Ben Durazzo for allowing me the opportunity to rock with such a dope and diverse crowd, in a warm environment such as this.
Thank you to all the supporters , new and old. I appreciate all of you!
Totally makes sense why Blunt Club and Motown on Mondays are both nestled within the confines of The Legionnaire.  I need yall to do me a favor and CHECK THIS SPOT OUT, next time you are in the Oakland area and need something to do.  You won't be disappointed.
You can find it on 2272 Telegraph Ave, Oakland, CA 94612 Located right off 23rd and Grand.. exit 27th ave from the 980 Freeway and head south.. boom. You're welcome.
Their website is also located right here..  legionnairesaloon.com  
And you can add their Facebook at https://www.facebook.com/LegionnaireSaloon
DON'T FORGET TO CHECK OUT  MOTOWN ON MONDAYS AT THE SAME SPOT !! Spinning remixes, original records, and music related to Motown, fams. You WON'T be disappointed!!
Also, check out my dudes Durazzo and Task1ne 's  ! They're beyond ill and their also the fam.. so supporting them is supporting me!!
Alright, that's a lot of readin for ya lol.. I'm trying to give folks some good material to read when they're suppose to be doing work. I know how it is, trust me HA!   Let me know what you think.. and even some spots I should check out when I'm in your area.  I'll add it to my list.
Until next time, RoQ Riffs!!
PEAAAAAAAACEE!!
– RoQy
The Culture Is Back!!
Comments
comments